How It Works
Brickfy is a global market place for business and property-backed loans. A platform of platforms that thanks to deep integration with each of the platforms, offers investors the convenience of investing from a single web and manage their portfolio in a centralized way.
We provide retail investors with an easy and transparent way to invest in loans originated by a variety of alternative lending companies around the world. Our mission is to facilitate free and efficient movement of capital. At Brickfy, investors can invest in different types of loans originated by many different loan originators. There are no fees for investing on Brickfy; investors can invest in euros for the moment and start small. Platforms, on the other hand, gain access to flexible and scalable funding for growing their loan book.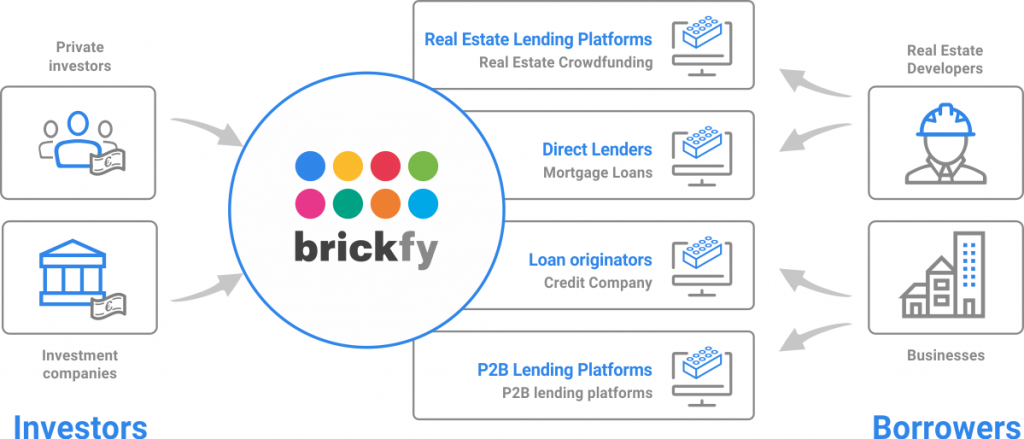 Marketplace
Borrowers apply for a loan at the loan originator.

The loan originator evaluates the application, sets an interest rate and lends money from its own funds.

The loans are then listed on the Brickfy marketplace, where you can select loans to invest in, after receiving monthly payments and interests.*
* By investing in a loan, investors are buying claim rights against a borrower based on the assignment agreement. Neither Brickfy nor the loan originator is responsible for a borrower failing to service the loan, including for late payments. In the case that a borrower is unable to repay the loan, investors may lose some or all of their invested capital.
Loan Assignment Agreement Process
The investor opens an account in Brickfy.

The investor selects a property backed loan and submit a lending order.

Brickfy takes the order in the selected Platform and invest in the loan selected by the investor, with a loan agreement.

Brickfy transfers the claim to the investor with an assignment agreement.

The investor receives the new loan agreement.

The investor receives the interest on the loan, and the repayment of the principal, in their Brickfy account